Milpitas, CA, December 18, 2014 - CORWIL Technology now offers assembly and test services to their customers all under one roof. CORWIL announces the completion of the CORWIL Test Division (CTD) move from their Santa Clara location to the newly remodeled CORWIL facility located at 1635 McCarthy Boulevard, Milpitas, CA. The building redesign includes the addition of 21,500 sq ft to house the CTD equipment which includes ATE such as Teradyne UltraFlex and Advantest 93K, Seiko Epson Handlers, Accretech & TEL Wafer Probers, Burn-in testing equipment and End-of-Line equipment such as scan, laser mark, tape and reel.
The newly remolded building allows customers full access to the CORWIL engineering team at one location and helps to minimize overhead and logistics allowing CORWIL to offer competitive prices for manufacturing services in Silicon Valley."The decision to combine the two businesses in one building was an easy one," says Matt Bergeron, CORWIL CEO. "This move will allow our customers easier access to a full turnkey solution. They can watch their product move from assembly to test, reducing their time to market and easing logistical concerns."
Joe Foerstel, CORWIL Test Division General Manager, said "Being in one location allows CORWIL to efficiently take a customer's device from the beginning at wafer probe, move on to wafer prep and package assembly, perform package final test, then scan/bake/tape & reel, and into FGI or direct ship to the final end destination. The new facility also allows CORWIL to offer more on the package/device reliability arena with the ability to perform MLS moisture pre-conditioning and then reflow all onsite, to enhance the current offerings of HTOL, LTOL, THB, HAST, and Temp. Cycling. CORWIL can do it all, or only what the customer requires from wafer probe to shipping the final tested package."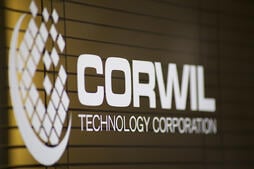 About CORWIL Technology Corporation
CORWIL Technology provides high quality and responsive semiconductor assembly and test services focusing on Hi-Rel, fast-turn and wafer processing markets. Founded in 1990 and based in Milpitas, CA, CORWIL is the premier U.S. provider of full back-end assembly services and is a key partner with leading medical, Mil/Aero and commercial semiconductor companies. For more information about CORWIL, please visit www.corwil.com.