RELIABILITY & QUALIFICATION
Integra Technologies is an industry leader in providing qualification, design verification and reliability testing services to semiconductor manufacturers and military/space/aerospace and automotive OEMs. Integra offers a full range of qualification services as well as the technical guidance to define a qualification plan that meets your requirements.
Integra specializes in managing large qualification projects. We have the infrastructure, project management expertise and data management tools to ensure timely completion of your qualification project. Whether you have a single device to qualify or a large list of devices, Integra is the right choice to manage your project.
PLASTIC ENCAPSULATED MICROCIRCUIT (PEM) QUALIFICATION
Integra Technologies has more experience with PEM Quals than any other test lab!
Integra provides enhanced PEM (Plastic Encapsulated Microcircuits) evaluation and qualification capabilities for Space, Aerospace and Terrestrial Applications in the Defense, Industrial, Automotive and Commercial markets.
Integra has performed thousands of PEM Quals covering nearly all packages from hundreds of suppliers.
We offer PEM Qual evaluation services including: Screening, Qualification, Package Thermal Management, Construction Analysis, DPA and FA and can evaluate all EEE products including Discretes, Passives, Linears, Memory, FPGA, SERDES, Microcontrollers, A/D, D/A, Inductors, Magnetics & more.
PEM Qualifications Performed per:
NASA's PEM-INST-001
Marshall Space Flight Center's MSFC-STD-3012
Class Y per Mil-PRF-38535
Class N per Mil-PRF-38535
JEDEC and other Industry standards
Cu WIRE EVALUATION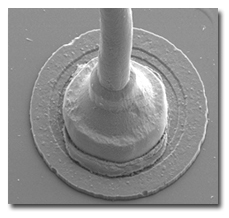 Integra has participated in various industry studies for Cu wire evaluation using different flows and inspection methodologies.
Through failure mode analysis and thorough understanding of physics, Integra can help assess potential Cu wire failures arising from component qualification, customer system manufacturing, and/or field failures.
Failure mechanisms that can be assessed include:
Break mode understanding
Implications of pad lifting
Hidden micro-crack damages
Die cracks
Corrosion
Integra offers a unique room ambient decapsulation process to minimize over-etching damage. The process includes the capability to etch and maintain complete integrity down to the ball attachment. Once the ball attachment is analyzed our process is capable of removing the ball attachment from the pad without destroying the metalized pad.
Evaluation process flow includes control sample verification before actual sample decapsulation.
Comprehensive reports with detailed photographs and data analysis are always provided.
Quality tests that can be performed for Cu wire evaluations include:
Historical data comparison
Ball diameter: detailed inspections per MIL-STD-883, M2010, condition A for Microcircuits and Hybrids and M2074 for Discrete devices
Bond pull: MIL-STD-883, M2011 for Microcircuits and Hybrids and M2037 for Discrete semiconductors.
IMC inspection using SEM per MIL-STD-883, M2010, condition A for Microcircuits and Hybrids and M2074 for Discrete devices
Extensive in-house reliability evaluation capability for Cu wire:
Life test to study Cu wire wear out mechanisms
Humidity tests with pre-conditioning
Temp cycle
High temp storage life
Mechanical stresses
Manufacturing process evaluation
In-House Equipment Includes:
High resolution cameras
Decapsulation stations
Acoustic microscopes
X-Ray
SEM with EDX
Cross sectioning equipment
Vacuum bake
Bond pull and bond shear equipment including precision gauges
Reliability equipment for life test, high temp storage life, THB, HAST, temp cycle and vacuum bake
ESD SERVICES
Integra Technologies' ESD Services cover all aspects of electronic device reliability qualification with fast turnaround time.
Electrostatic discharge (ESD) testing is performed early in the qualification cycle, usually at firstsilicon. Evolution in technology and applications (RF, analog) constantly drive new configurations, usage patterns and failure modes.
A Proven Methodology
Our standard flow includes:
Identification of required tests to appropriate specs
Selection of fixturing
Test execution
Reporting
We support all types of electrical stresses:
Wide Range of Supported Standards
IC level: JEDEC, AEC, ESDA, ANSI
Market specific: MIL, AEC
Fast Turn-around Time
Since concerns over ESD reliability usually come early in the development cycle, typically after first silicon, Integra offers very fast turn-around times, giving real-time feedback to design and product teams.
This is made possible by our very comprehensive inventory of fixtures and adapters—more that 850 of them. Most packages can be accommodated by one of our existing boards/sockets, alleviating the need for extra design time and/or NRE.
Consulting and Audits
Beyond stressing devices, our experts will help you understand the best stress strategies and set-up for your mission profile(s), as well as consult with you on the best design strategies for ESD protection.
ESD Services Standards:
ESD-HBM(ANSI/ESDA/JEDEC-JS-001-2017,ESDAANSI/ESDSTM5.1,MIL 883-3/3015-9,AECQ100-002 RevE
ESD-MM(JEDECJESD22-A115C, ESDA ANSI/ESD STM5.2, AEC Q100-003 RevE
ESD-CDM (JEDEC JESD22-C101F, ESDA ANSI/ESD STM5.3.1, AEC Q100-011 RevD, ANSI/ESDA/JEDEC-JS-002-2018)
Latch-up(JEDECEIA/JESD78E, ESDAANSI/ESD SP5.4, MIL 883-3/3023.2,AECQ100-004 RevD
OTHER QUALIFICATION SERVICES
In addition to PEM Qual and Device & Package Qualification and reliability testing, Integra offers extensive Copper Wire evaluation capability and electrical connector reliability testing to MIL-STD-1344. Our facility is equipped to support all your qualification and reliability requirements including environmental testing such as:
Burn-In Test
Temperature Cycling
Thermal Shock
Autoclave
Seal Test
Want to learn more?
Contact our team today to learn more about our reliability & qualification services, tell us about your project needs and get your free quote, 100% risk-free.