INTEGRA TECHNOLOGIES EXPANDS SILICON PHOTONICS CAPABILITIES
Silicon Valley, CA (Feb 9, 2021) - Integra Technologies, a world leader in semiconductor packaging, assembly, test, characterization and related services, today announced the successful implementation of a high accuracy fiber array waveguide attachment system focused on the Silicon Photonics market. This latest set of tools is based on the double-sided HexNano Alignment System from Physik Instrumente L.P. (PI).
"We've seen significant growth in Silicon Photonics over the last 10 years", said Jonny Corrao, Integra Technologies' Silicon Valley General Manager. "With this growth, we have observed numerous inventive approaches and implementations of the technology, but PI's solution is one of the most effective and practical we've encountered for fiber attach and general alignment."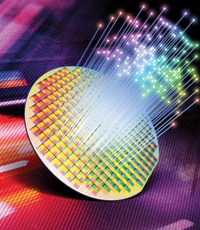 Shortly after the implementation, Integra was able to successfully support numerous customers and products with their fiber attach requirements. Dan Schuette, Silicon Valley Sales Manager of Physik Instrumente said, "We are pleased to have Integra become one of our partners and one of the only places in the United States to support a large number of SiPho requirements."
Integra Technologies made the investment in this and other silicon photonics equipment to support a market that accounted for $0.8 billion in 2019 and is expected to reach $3.77 billion by 2027, growing at a CAGR of 21.4% during the forecast period. Some of the key factors propelling the growth of the market are increasing demand for high-speed broadband services, deployment of 5G technologies in developing nations, and growing demand for CMOS-integrated silicon photonics technology. Photonic devices contain optical systems that use silicon as the optical medium. Since silicon is used as a substrate for most ICs, the manufacturing of hybrid devices, in which electronic as well as optical components are integrated onto a single microchip, becomes more streamlined and standardized. Silicon photonics is increasingly used in the data transfer between microchips, through optical rays. Moreover, they are capable of carrying a large amount of data in a shorter amount of time compared to traditional electrical conductors.
About Integra Technologies
Established in 1983, Integra Technologies, LLC, is a solely U.S.-based and employee owned company with DMEA accredited Category 1A Trusted. Integra is one of the largest, most experienced semiconductor die prep, assembly, test and qualification facilities in the United States with locations in Wichita, KS, Silicon Valley, CA, and Albuquerque, NM. The company's world-class operations have been satisfying customers for over 35 years by demonstrating industry leading quality and on time delivery performance. Implemented in 2018, the Go-To-Market strategy (GTM) has positioned Integra Technologies as the leading single-source to the Aerospace and Defense, Space, semiconductor and medical customer. For more information, please visit https://www.integra-tech.com/.
###
Contact: Matt Bergeron, VP Business Development
Phone: 503-510-1500
Email: matt.bergeron@integra-tech.com
Have questions? Email us!