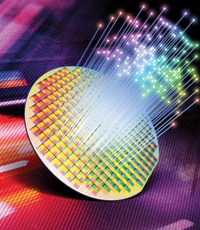 CORWIL Technology's pursuit of cutting edge technology and prime location in the heart of Silicon Valley has led them to secure programs from leaders in the area of Silicon Photonics. The need to increase bandwidth in all aspects of hardline and wireless communications coupled with an increase in data center speed is driving the communication world away from copper interconnects and towards silicon photonics. This evolving technology uses a combination of fiber optics, optical wave guides and laser frequency light waves, to carry far more data than traditional copper conductors, to support faster data transfer rates between data centers.
Because silicon photonics is a new field, customers are approaching device test and package solutions in different ways. There are many new processes and capabilities that are being put in place and developed to join the various components at the package level, along with work in device test at both the die and package level. Many of the services CORWIL offers are being performed for multiple customers and their silicon photonics based products. CORWIL has been providing Die Prep services including scribe and break, dicing, back grind, inspection as well as Package Assembly and wafer sort and package test services. Some of the unique requirements have pushed CORWIL to develop unique expertise in our service offerings.
In the area of Test, CORWIL is working with multiple customers on methods to test a device via a fiber optic input that can be used in a volume production environment for both package test and wafer sort. To be able to test at the high speeds and data rates these devices are rated for, CORWIL has developed methods to perform the initial RF VNA calibrations down through the wafer probes, using industry standard automated wafer probers vs. the semi-automated probe stations that are more often used.
For Device Reliability, CORWIL has worked with several silicon phontonics customers to come up with innovative methods to stress the actual device/die while inputting a controlled light source. Given the harsh environments of HAST and HTOL these requirements continue to push CORWIL's engineering staff to continue to innovate.
"As this is a new competitive field, CORWIL leverages the knowledge gained becoming a Trusted facility to offer customers anonymity, secrecy and security to protect any proprietary customer IP that is consigned to CORWIL," said Joe Foerstel, VP of Test for CORWIL Technology.
CORWIL Technology looks forward to continuing its partnership in the communications industry and becoming a vital source in providing test services to ensure the effective implementation of silicon photonics and its progressive technology.
www.corwil.com/silicon-photonics