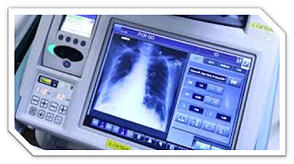 CORWIL Technology is a U.S. based OSAT with a unique focus on Medical Device and Biotech industries. Our Bay Area facilities are state of the art, and boast an unparalleled range of high-end equipment and capabilities in both assembly and test disciplines, that when tagged with CORWIL's highly skilled and experienced engineering team and ISO 13485:2003 certification, make CORWIL the ideal NPI and production partner for leading-edge Med-Tech applications such as DNA Sequencing, ICD/Pacemaker, Neuromodulation, Medical Imaging, and more.
One of the biggest differentiators between CORWIL and other domestic subcontractors is our significant investment in back-end wafer processing – CORWIL has more wafer thinning, dicing, inspection, and die-sort capacity than any other OSAT in North America, and is positioned to support both high-mix/low-volume, as well as mid to high-volume die-prep requirements, from individual die, all the way through 300mm wafer sizes. CORWIL also has vast experience in exotic material processing such as AlN, GaN, GaAs, InP, SiC, and Sapphire.
In our Class 1000 and 10000 cleanrooms, CORWIL's services include:
Wafer Thinning & Polishing
Largest array of dicing saws stateside
Multi-project wafers
Flow cell attach
Custom dam & fill configurations
Environmental Test
Mechanical Test
Electrical Test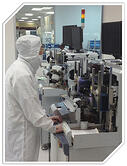 CORWIL's wafer and die inspection capabilities comprise of advanced AOI systems (Automated Optical Inspection), as well as highly skilled technicians trained and experienced to MIL-STD-883, Class Levels Q & V, with DLA certification to MIL-PRF-38535. Our assembly portfolio spans a wide range of JEDEC and custom package types such as ceramic (hermetic and non-hermetic), plastic QFN/DFN, BGA, LGA, CSP, COB, and MCM, with numerous material options in die-attach, interconnect, and seal. CORWIL also offers a wide range of test services, including environmental, mechanical, and electrical, with an ATE portfolio spanning analog, digital, mixed-signal, and RF, complete with probers and handlers to support both wafer-sort and package-test.
CORWIL is QML listed (levels Q&V), ISO 9001:2008, ISO 13485:2003, and is ITAR registered and compliant.