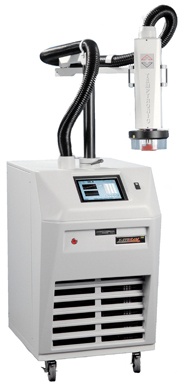 Integra Technologies uses its advanced automated test equipment (ATE) for the purpose of testing at -55°C and beyond. In support of extended temperature testing, we have 35+ ATEs to support the test program development and testing of EEE components. Our successful track record for software development and electrical testing is largely due to:
Extensive experience in characterizing and testing EEE devices at -55°C and below. This includes Discrete, Passives, Linear, Memory, FPGA, SERDES, Microcontrollers, A/D, D/A, Connectors, Relays, Inductors and Magnetics.

Utilizing the largest on-site Test Engineering team, among all test labs worldwide, to develop software and hardware for the extended temperature testing and characterization

Integra's -55°C test strategy includes using one of our many precision 'Thermal Temperature Forcing' units in conjunction with our advanced ATEs. Our temperature forcing units are testing from -75°C to +200°C.

Our custom DUT (Device Under Test) temperature monitoring process includes

Continuous monitoring of temperature at the DUT level for compliance to maintain the target temperature.

Temperature guard-band to account for temperature gradient across the measurement area

Calculated temperature ramp rates and soak times to achieve junction temperatureequilibrium using actual packaged devices

Precision temperature monitoring thermocouples used to insure highest integrity of test temperature assurance to specification

Controlled anti-ESD environment within the Thermal Temperature Forcing units

Our cold temperature process has been audited by DLA for compliance

High volume cold temperature testing using cold temperature handlers

We test both packaged and wafer level cold temperature testing

Thousands of lots of historical data running -55°C testing

Extensive work with cold temperature storage or cold temperature life test followed by cold temperature electrical testing
Interested in Learning More? Contact Integra Today!
Your Single Source Turnkey Solution, from Wafer Processing to Final Test with our Locations Throughout the U.S.!