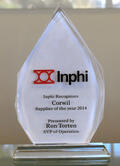 Milpitas, CA, February 4, 2015– CORWIL Technology (CORWIL), the premier US based, IC assembly and test services subcontractor, offering full back-end assembly services starting from wafer sort, thinning & dicing through die-attach, wirebond, package sealing and final test, was awarded 'Supplier of the Year' by Inphi Corporation (NYSE: IPHI), a leading provider of high-speed, mixed-signal semiconductor solutions for the communications, data center and computing markets.
This prestigious award is given to suppliers in recognition for performance in terms of technology, quality, manufacturing execution, and support. "CORWIL has demonstrated leadership among our suppliers in 2014 through superior execution across these metrics," said Dr. Ron Torten, Senior Vice President of Operations and IT at Inphi.
"We are honored to be recognized by Inphi as their supplier of the year. It is a tribute to our team who has spent considerable time and effort working with Inphi in support of their 'fast data and fast growth' products," said Matt Bergeron, CORWIL Technology President and CEO. "We are committed to working collaboratively to meet our customers' needs and this shows that strong customer service can make a real difference."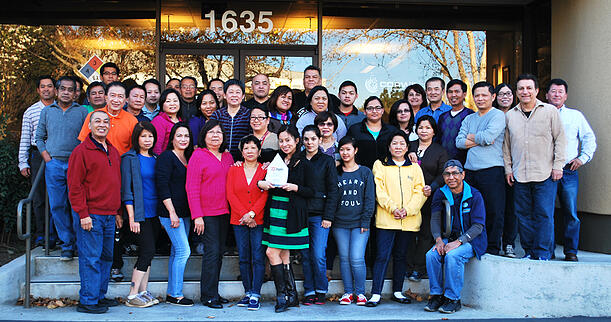 CORWIL Technologies' Inphi team celebrates winning the award
About CORWIL Technology Corporation
CORWIL Technology provides high quality and responsive semiconductor assembly and test services focusing on Hi-Rel, fast-turn and wafer processing markets. Founded in 1990 and based in Milpitas, CA, CORWIL is the premier U.S. provider of full back-end assembly services and is a key partner with leading medical, Mil/Aero and commercial semiconductor companies.
For more information about CORWIL, please visit www.corwil.com.
About Inphi
Inphi Corporation is a leading provider of high-speed, mixed signal semiconductor solutions for the communications, data center and computing markets. Inphi's end-to-end data transport platform delivers high signal integrity at leading-edge data speeds, addressing performance and bandwidth bottlenecks in networks, from fiber to memory. Inphi's solutions minimize latency in computing environments and enable the rollout of next-generation communications infrastructure. Inphi's solutions provide a vital interface between analog signals and digital information in high-performance systems, such as telecommunications transport systems, enterprise networking equipment, enterprise and data center servers, and storage platforms. To learn more about Inphi, visit www.inphi.com.
Inphi, the Inphi logo and Think fast are registered trademarks of Inphi Corporation. All other trademarks used herein are the property of their respective owners.