CORWIL TECHNOLOGY INCREASES VOLUME
TAPE AND REEL CAPABILITIES
MILPITAS, CA, February 2, 2017 – CORWIL Technology (CORWIL) announced the addition of a Muhlbauer DS Variation ecoLINE for the processing of wafers to Tape and Reel. With this system, CORWIL has enhanced its volume tape and reel capabilities for chip scale packages and die sorting applications.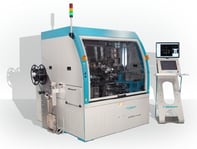 The DS Variation ecoLINE is capable for wafer sizes up to 300mm and features superior vision inspection technology, high speed die flipping, fast tool changeover, and small chip handling capabilities down to 0.5mm x 0.5mm.
This addition, coupled with our volume thinning and dicing capabilities, strengthens CORWIL's capability for the delivery of die level products. "As more of our customers move to die level packaging, CORWIL identified a critical need for a Tape and Reel system that would satisfy these demands. With this equipment, CORWIL has the right inspection and die sorting capabilities to service this growing market," said Jonny Corrao, CORWIL's Director of Operations and Engineering.
"Our search for the right Tape and Reel partner led us to Mühlbauer High Tech International, who was able to deliver a system that helps us meet the stringent quality requirements of our Mil/Aero and Medical customers as well as providing the flexibility required for Commercial and Quick-Turn builds," he added.
This purchase further emphasizes CORWIL's commitment to acquire the best equipment and capabilities to support the Semiconductor Industry's domestic outsourced assembly and test service requirements.
About CORWIL Technology Corporation
CORWIL Technology provides high quality and responsive semiconductor assembly and test services focusing on Hi-Rel, fast-turn and wafer processing markets. Founded in 1990 and based in Milpitas, CA, CORWIL is the premier U.S. provider of full back-end assembly services and is a key partner with leading medical, Mil/Aero and commercial semiconductor companies.
For more information about CORWIL, please visit www.corwil.com.