CORWIL ADDS UP TO 50Ghz IN RF TEST CAPABILITIES
300mm Sort with Calibration Supports RF Test
MILPITAS, CA, January 18, 2017 – CORWIL Technology (CORWIL) recently added the Keysight N5225A PNA Network Analyzer to their list of available test equipment. The Keysight N5225A allows CORWIL to offer its customers RF measurement capability up to 50 GHz. The N5225A at CORWIL is 4 port, dual source and has the options already built in for extended power range, bias-tees and configurable test set.
"The move into higher frequencies was a natural progression for CORWIL," said Joe Foerstel, CORWIL's VP of Test, "We currently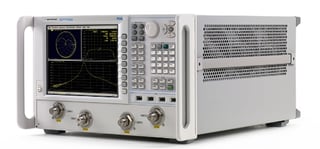 provide die prep services for a large number of High Frequency RF materials such as GaAs, InP and SiGe and have shown these customers that combining wafer sort with die prep reduces overall costs and time to market."
For 200mm and 300mm wafer sort, CORWIL has RF calibration substrates working on their Accretech automated probers and in final check out for the 300mm capable Semics automated probers. Both platforms are capable of elevated/hot temperature wafer sort. RF calibration substrate capability on the cold TEL automated prober is scheduled for mid Q1, 2017. For package test, CORWIL has the room/hot temp. NS 6040 for volume and hand test with cold/room/hot via the thermonics thermal forcing system.
"Our Military and Aerospace customers continually push the limits with respect to frequencies," said Matt Bergeron, President of CORWIL, "we are happy to be able to offer test capabilities in the K&Ka bands as well as assembly and die prep services."
CORWIL currently has two customers who take advantage of these new capabilities and has long supported RF test in both wafer sort and package test for a number of customers.
About CORWIL Technology Corporation
CORWIL Technology provides high quality and responsive semiconductor assembly and test services focusing on Hi-Rel, fast-turn and wafer processing markets. Founded in 1990 and based in Milpitas, CA, CORWIL is the premier U.S. provider of full back-end assembly services and is a key partner with leading medical, Mil/Aero and commercial semiconductor companies.
For more information about CORWIL, please visit www.corwil.com.