CORWIL TECHNOLOGY ADDS FTI 1000 TESTER
GOOD TO 3600 V AND TESTING OF POWER DEVICES
MILPITAS, CA, May 23, 2017 – CORWIL Technology (CORWIL) has teamed with Focused Test, Inc. to release the FTI 1000. The FTI 1000 tester adds to a growing variety of testers on the CORWIL test floor capable of both package test and wafer sort. The FTI 1000 is a perfect solution for testing power discrete devices, power management IC's and Intelligent Power Modules. In addition to standard silicon devices, FTI 1000 is capable of testing Wide Band Gap devices using GaN and SiC technologies. FTI 1000 is capable of performing a wide range of DC, thermal resistance and AC tests on power discrete devices.
The MOSFET AC parameters tested by the FTI 1000 include Inductive Load (UIL/UIS), Gate Charge (Qg, Qgs, Qgd), Gate Resistance (Rg), Gate Capacitance (Cg, Ciss, Coss, Crss) and high voltage Switching/Timing Tests. The FTI 1000 also offers analog test resources to enable Smart Power devices to be tested, such as Half Bridge power modules. FTI 1000 can also perform Dynamic Rdson testing on GaN HEMT wide band gap discrete devices.
The FTI 1000 performs IC and Multi-Chip Module testing using the IC Channel Board equipped with: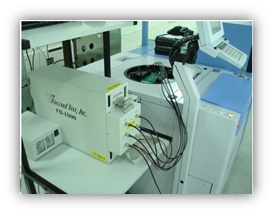 Multiple Quad VI's

TMU

Pulse Generators

Comparators

Digital Instruments

C Bits with Readback
Additional channel boards can be easily added, depending on the required configuration, and each channel board can be synchronized by a cabled 'Sync Bus'.
"We have had a number of customers ask about high voltage and discrete testing. This FTI solution works well, providing scalability and flexible solutions. We were pleased when Focused Test collaborated with us on this program." Said Joe Foerstel, CORWIL's VP of Test.
Focused Test, Inc. (FTI) was founded in August 2006, with the mission to apply a 'focused technology' approach to the design of engineering and production testers for power discrete devices and analog IC's. Our goal is to offer targeted solutions that meet our customers' needs for low-cost, flexible and scalable test equipment for specific product segments in the power and intelligent power markets. In this way, we provide the lowest acquisition price and highest throughput, along with an impressive array of test engineering tools.
"CORWIL's extensive assembly and test capabilities have enabled us to provide a full range of test services to power device manufacturers in the Bay Area and we are very pleased with the excellent results of our collaboration to date", said Peter Hancock, President of Focused Test, Inc.
About CORWIL Technology Corporation
CORWIL Technology provides high quality and responsive semiconductor assembly and test services focusing on Hi-Rel, fast-turn and wafer processing markets. Founded in 1990 and based in Milpitas, CA, CORWIL is the premier U.S. provider of full back-end assembly services and is a key partner with leading medical, Mil/Aero and commercial semiconductor companies.
For more information about CORWIL, please visit www.corwil.com.