Milpitas, CA, March 31, 2014 – CORWIL Technology (CORWIL) announces continued invest ment in capabilities with the addition of a new MAT 6400 for automated die attach.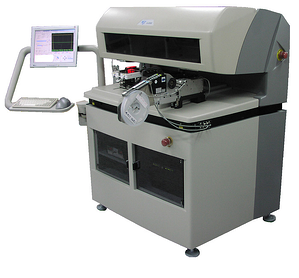 Improving quality and reliability is a basic tenet of CORWIL Technology's focus on superior customer service and meeting today's exacting quality demands in assembly. To this end CORWIL has added a new MAT 6400 die attach system from MicroAssembly Technologies. This equipment acquisition adds capability and improves quality in the assembly operations.
Die attach is the foundation of the assembly process; it is the first critical step in the
process and getting it right is essential for a reliable finished product. The MAT 6400 die attach system helps achieve the goal of a solid foundation by using a high resolution digital vision system to ensure a pick and placement accuracy of 3 um @ 3 sigma (Application dependent). The fully automated system is designed for flexibility and improved quality.
The MAT 6400's handling equipment can pick die from a variety of sources including waffle/Gelpacks, tape and reel feeders giving customers flexibility in their sourcing options. The flexible tooling allows CORWIL to process active and passive components in sizes ranging from 0.2mm to 25mm. In addition the tooling is capable of handling unusual die sizes and aspect ratios associated with CCD's, sensors and sensitive MEMS devices and ensure accurate BLT (Bond Line Thickness) control.
A number of die attach methods are available including:
Epoxy or Silver Glass
Eutectic
Thermo-compression
Features include:
The flexibility of the adhesive dispensing system allows single and multi dot patterns to be applied from a library of dispense patterns or the
development of custom patterns for a specific project/customer application. The pin transfer process, stamping, has the capability of applying adhesive dots 75 micron and under.
Flip chip processing is easily handled with inline bump fluxing as well as over and up looking cameras to ensure accurate chip placement and alignment.
Heating of the substrate and tools are available to ensure the quality of the eutectic and thermo compression bonding processes.
Die stacking is another advanced feature of this equipment.
Richard Tung, CORWIL's VP of Operations added "The MAT 6400 increases our capabilities in the handling of die from a variety of sources and the processing of thin and/or fragile die and devices including MEM's LCD's and sensors. The different die attach methods allow us to offer customers a variety solutions to meet their quality and delivery needs for prototype or production volumes in a timely fashion."
"The integration of this capability, coupled with other recent equipment additions, adds to our
flexibility, accuracy and increased capacity and through put," stated Matt Bergeron, CORWIL Technology's President and CEO. "This capital investment continues our commitment to build CORWIL's capabilities to service the Mil/Aero and medical customers who demand a secure, on-shore, fully qualified and certified facility for processing and handling of their die. The increased capacity is a demonstration of our commitment to be the leading independent assembly and test facility for all our customers."
About CORWIL Technology Corporation
CORWIL Technology provides high quality and responsive semiconductor assembly and test services focusing on Hi-Rel, fast-turn and wafer processing markets. Founded in 1990 and based in Milpitas, CA, CORWIL is the premier U.S. provider of full back-end assembly services and is a key partner with leading medical, Mil/Aero and commercial semiconductor companies.
For more information about CORWIL, please visit www.corwil.com.