Press Release
CORWIL INCREASES DIE SORTING/PLATING CAPABILITY
CORWIL NOW OFFERS AUTOMATED 300mm CAPABILITIES FROM THINNING TO INSPECTION
Milpitas, CA, February 25, 2014 – CORWIL Technology has announced the addition of a new Royce MP300 Die Sorter expanding their ability to process wafers up to 300mm.
This new tool, from the recognized equipment leader for sorting wafers, automatically adds capacity and flexibility to CORWIL's die sorting capabilities handling wafers from 3inch to 150mm to 300mm. The MP300 removes die from a variety of input formats including wafer, film frames, or hoops/rings and sorts to JEDEC trays, waffle pack, Gel-pak™ or film frames.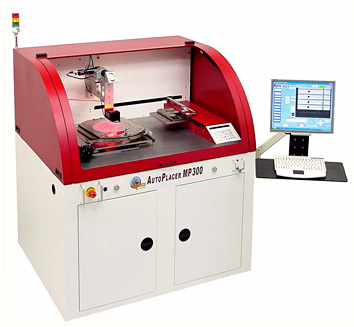 The flexibility of the MP300 adds to CORWIL's overall capability and strengthens the commitment to serve all our customer's needs. This flexibility includes:
The ability to process die using either wafer maps or ink dot recognition.
The Die Sort Manager has an extensive library and can accommodate the latest software formats as well as the many older/legacy wafer map formats.
The quick change flexibility makes it ideal for volumes from a few prototype wafers to high volume production.
Micron level control of the die ejection enables the handling of die as thin as 50 microns without damage.
Die pick-up and handling include the conventional vacuum pick-up and also a unique non active surface handling technology which allows the sorting and placement of fragile die such as GaAs die with air bridges, MEMS, microfluidics, Lab-on-Chip, biochips, optoelectronics and inkjet heads.
Die inversion or die flipping is another option enabling inline inversion of bumped die into output trays.
Allows transition from one wafer size to another whether larger or smaller, or to a completely different format to allow full utilization of downstream equipment and processes. This is particularly
important when picking die from multi-project wafers, the so called "Pizza Wafers."
Customer or device specific parameters are easily stored and maintained to allow easy recall and
implementation of proven programs at a later date to ensure the reliable and repeatable processing of all die.
The fully automated process will sort and bin entire wafers without operator input allowing 100%
die traceability.
For MEMS type devices where the die surface cannot be touched the MP300 utilizes a custom gripper which can pick up the die from the sides and whose force is fully adjustable between 0 to 20 grams.
See the sorter in action at: https://www.youtube.com/watch?v=dDyFI_bvZcY
"The MP300, coupled with other recent equipment additions, enhances and strengthens CORWIL's capability for processing and handling all types of die to support our Mil/Aero and medical customers who demand the processing of their products in a secure, on-shore proven and fully qualified ISO and QML certified facility," stated Matt Bergeron, CORWIL Technology President and CEO.
Richard Tung, CORWIL's VP of Operations added "This capability allows us to process the full range of wafers from the smallest 3" to the latest 300mm. The auto-handling of fragile die positions us to meet the most demanding customer requirements as we build capability and capacity to meet the sorting of next generation devices. With the MP300, CORWIL is now capable of processing 300mm wafers from thinning through individual die inspection in an automated fashion."
This purchase emphasizes CORWIL's commitment to acquire the best equipment and capabilities to serve the Semiconductor Industry's
domestic outsourced assembly and test requirements.
About CORWIL Technology Corporation
CORWIL Technology provides high quality and responsive semiconductor assembly and test services focusing on Hi-Rel, fast-turn and wafer processing markets. Founded in 1990 and based in Milpitas, CA, CORWIL is the premier U.S. provider of full back-end assembly services and is a key partner with leading medical, Mil/Aero and commercial semiconductor companies.
For more information about CORWIL, please visit www.corwil.com.