CORWIL TECHNOLOGY INCREASES WIRE BOND CAPABILITIES
Milpitas, CA, February 16, 2016 – CORWIL Technology (CORWIL) announced today the addition of a Kulicke & Soffa IConn Wire Bonder. This addition is one of the many new advanced pieces of equipment that CORWIL has brought to its Milpitas facility in recent months.
The K&S IConn represents "the state-of-the art in IC inter-Conn-ect performance for the advanced packaging requirements for both today and tomorrow." CORWIL also purchased the off-line programming options for K&S. "We believe that the IConn will enable us to more rapidly and accurately turn complex prototypes and volumes for our Commercial and Hi-Rel Customers," said Willy Bowman, VP of Operations.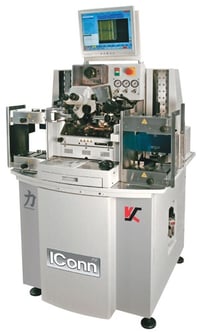 Features:
Extra-large 56mm X 80mm bond area

±2.0 µm accuracy

High Performance X-Y-Z motion control system

Dual frequency transducer allows two selectable frequencies for each bond

Power Series Low Loop allowing forward loops under 50µm in height

On-board process optimization tools

Auto-BITS self-teach and optimization

WAVI (Wide Angle Vertical Illumination system with programmable red and blue lighting
About CORWIL Technology Corporation
CORWIL Technology provides high quality and responsive semiconductor assembly and test services focusing on Hi-Rel, fast-turn and wafer processing markets. Founded in 1990 and based in Milpitas, CA, CORWIL is the premier U.S. provider of full back-end assembly services and is a key partner with leading medical, Mil/Aero and commercial semiconductor companies. For more information about CORWIL, please visit www.corwil.com.