INTEGRA TECHNOLOGIES ADDS V93000 SMARTSCALE TESTER
The addition of this SmartScale Test system allows Integra to now support their customer's test needs for SmartScale testing in two locations.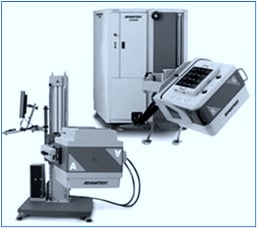 Wichita, KS (March 9, 2021) - Integra Technologies, a world leader in semiconductor packaging, assembly, test, characterization and related services, today announced the addition of an advanced test system from Advantest Corp at its Wichita facility that effectively bridges the gap between ultra-high-speed digital/memory and lower end RF speeds up to 8,000 Mbps data rate. The addition of this SmartScale Test system allows Integra to now support their customer's test needs for SmartScale testing in two locations - Integra-Silicon Valley in Milpitas, CA (ISV) and Integra-Wichita, KS (ICT). Each facility can support this class of high-speed testing with multiple engineers. Furthermore, the support extends to MIL-PRF-38535 and MIL-PRF-38534 QML assembly and test to the highest DLA level of space and satellite requirements.
The V93000 SmartScale tester is populated with PS1600 and PS9G cards to provide economical test solutions up to 1600Mbps and higher with end solutions up to 8,000Mbps for the later card. Overall timing accuracy of the system is stated as +/-35ps with differential edge placement of +/-15ps. The following device types & features can now be supported with this new system:
DDR3 speeds to 2133Mbps & beyond

DDR4 speeds to 3600Mbps

Future DDR5 to 3600Mbps

High speed Serial Memories >1Gbps

Mobile DDRx support to 3600Mbps

HS LVDS Drive & Receiver Buffers >1Gbps

Differential signals with precision eye placement

32 lane/multi-port PCI Express switch solutions

RF 12-bit ADC with 2.6 GSPS+ conversion rates

RF 14-bit DAC with 2.5GSPS+ conversion rate

AD9215BCP ADC with10-bit accuracy at 105MSPS low offset and low power <120mW

AD9625 12-bit 2.6GSPS 1.3/2.5V ADC

AD9739 14-bit 2.5GSPS RF DAC

89HPES32HBG2 32-lane 8-port PCIe Switch with 32GBps Switching Capacity

AD8605/6/8 Precision Rail-to-Rail low Bbas(1pA) OP AMP with low offset voltage

Quadruple capacity available when multi-site testing employed with handler or hand test (4-site in parallel)

High speed SERDES to 8Gbps

DS25BR100/101 3.125Gbps LVDS Buffer w/ Transmit Pre-Emphasis & Receive Equalization

Figure 1: DDR3/4 Signal integrity & ever-increasing Data Rate's shown above ideal for the V93000 SmartScale
For high-speed serial interfaces like PCIe, Advantest SmartScale has a "SmartLoop" software option that can be used to test the protocols in loopback mode while adjusting levels, timing and jitter. SmartLoop also enables testing of high-speed signals to verify SERDES datasheet eye diagrams. This option is not part of this purchase at this time, but can be included in the future if such the capability is needed. Additionally, the SmartScale power supplies are ramp programmable which enables testing up to 12-14 bit ADC/DACs.
Integra Technologies employs multiple automated tester platforms with the largest diverse test engineering and technical degreed employee base in the USA numbering 60+ individuals. Integra supports all types of EEE devices from passives/magnetics, transistors and diodes, to high speed DDR2/3/4 SDRAM, ultra high density X24 site NAND Flash, NOR Flash, SPI EEPROM, SRAM's, microprocessors, microcontrollers and 2000+ pin FPGA's. With over 20+ large capacity life test/burn-in oven systems, HAST, and Temp Cycle/Thermal Shock Environmental systems, Integra offers extensive screening and qualification support for its customers. Integra's Silicon Valley assembly operation provides package services for such packages as ceramic chip carrier/QFP and flatpack/DIP, Flip Chip, Plastic QFN's and BGA's. Integra's Albuquerque facility provides full scale DPA and Failure Analysis services.
About Integra Technologies
Established in 1983, Integra Technologies, LLC, is a solely U.S.-based and employee owned company with DMEA accredited Category 1A Trusted. Integra is one of the largest, most experienced semiconductor die prep, assembly, test and qualification facilities in the United States with locations in Wichita, KS, Silicon Valley, CA, and Albuquerque, NM. The company's world-class operations have been satisfying customers for over 35 years by demonstrating industry leading quality and on time delivery performance. Implemented in 2018, the Go-To-Market strategy (GTM) has positioned Integra Technologies as the leading single-source to the Aerospace and Defense, Space, semiconductor and medical customer. For more information, please visit https://www.integra-tech.com/.
Contact: Matt Bergeron, VP Business Development
Phone: 503-510-1500
Email: matt.bergeron@integra-tech.com
###